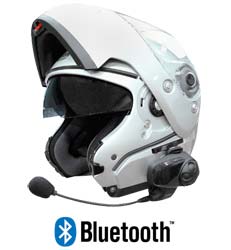 The SMH10 is a Bluetooth v2.1 Class 1 Stereo Headset with long-range Bluetooth Intercom designed specifically for motorcycles. With the SMH10, you can call hands-free on your Bluetooth mobile phone, listen to stereo music or voice instructions of GPS navigations by Bluetooth wirelessly, and have intercom conversations in full duplex with a passenger or up to 3 other motorcycle riders.
Thanks to the latest Bluetooth v2.1 and the advanced digital processing technology (DSP) the SMH10 offers the best sound quality for both incoming and outgoing sound in its class. Also, the easy-to-access and intuitive Jog-Dial button operations make the SMH10 a perfect companion for motorcycles.

Use your mobile phone, SmartPhone, iPhone or MP3 player to listen wireless to Stereo music using the A2DP Bluetooth Stereo Profil support or listen to the voice instructions from your GPS navigation system such as the TomTom Rider, Garmin zumo or any other navgation system with Bluetooth support. If your iPod, MP3 Player or radio doesn't support Bluetooth, you could connect to the headset 3.5mm jack using the audio cable included in the package.
Use with multiple helmets with mounting kit per helmet
Prioritized audio devices – e.g. mobile interrupts music
Detachable microphone and headset


SENA SMH10 Reviews, Tests und Links